For the past few years I've held Arizona in pretty high regard, sort of romanticizing the idea of the state. The majority of my family is from there and I have visited a few times but that's not exactly why I like the state. I can't really explain it but I just feel drawn to Tucson and those deserts. I hate the heat, I hate snakes, spiders, scorpions, I hate sunburn, etc etc etc. Yet I want to live in Arizona. Can't explain it. I guess it's my California. So partly because of this and partly because of my dad being from Arizona and being a teen during hardcore punk's heyday in Arizona, I'm a big fan of bands like JFA, Mighty Sphincter, America's Hardcore, Victory Acres, Public Enemy(not the rap group), etc. I even started collecting some AZ Punk memorabilia a few years ago but gave up on it when I realized it was too costly of a hobby to do from all the way in North Carolina. I do still have a really neat JFA lyric zine that they made pretty early on in their career, along with a few flyers for shows like when DK came through and whatnot. But those are just from my dad's abandoned collection. So if you're familiar with Arizona then you'll know that I'm definetely a fan of Placebo Records. Never heard of them? Well I'm sure you like JFA, Sun City Girls, Conflict, Mighty Sphincter, The Feederz and the This Is Phoenix Not The Circle Jerks compilation. They were all on Placebo. Spontaneous Combustion Records website has an interview with the guy who ran Placebo if you're interested in more info on the label.
Read it here.
Now on to the uploads...Here are some choice Placebo releases. I kept out JFA because, well, come on. Everyone already knows and loves JFA.

One of my favorite bands. This is not your average punk band. Wasn't then, still aint. Fucked up, crazy, mean, funny, sometimes stupid, sometimes genius, deathrock, goth, punk, hardcore, metal, whatever. Mighty Sphincter. This is one of the bands that my dad got me into and made me even more sure in thinking that my dad was much cooler than most dads of the kids my age, who were scolding their kids for listening to radio rap while my dad was lending me his copy of the Ghost Walking/New Manson Family CD without a second thought to it. I loved going to my dad's house on the weekends because my mom would throw away my zines and records if they had curse words in them while my dad would try his best to get me into bands like Mighty Sphincter who crossdressed and who (in my mind at the time, they most surely must have) worshipped Satan.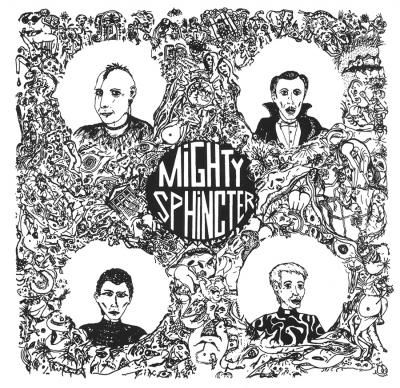 Download:
Mighty Sphincter-Heat House EP
This next upload is what happens when you have members of the Sun City Girls, the Meat Puppets, the Feederz and Mighty Sphincter form two side projects and release a split LP. If you liked Mighty Sphincter then you'll like this. It's not as fast or fucked up or anything, but it is similar. Especially the guitar. All the standout songs are on Victory Acres side though. The rest are good, don't get me wrong, but you can't beat Let's Just Lounge (later re-recorded for a Sun City Girls release), Looking Up the Bottle's Neck and A Cup of Coffee, Please.
Download:
Victory Acres/Joke Flower Split
Tired of the goth tinged shit? Alright, check out the Zany Guys then. Silly, immature, good old fashioned suburban white boy hardcore punk rock. This is their 4 song EP called Party Hits Vol II.
Download:
Zany Guys-Party Hits Vol II
This is gonna be the last upload as far as the punk stuff on Placebo goes. This Is Phoenix, Not The Circle Jerks was released in 1984 and compiles studio recordings by Mighty Sphincter, Conflict and Soylent Greene on the A side while the B side has live recordings of Zany Guys, Sun City Girls and JFA. Oh, and those weirdos on the cover? Mighty Sphincter.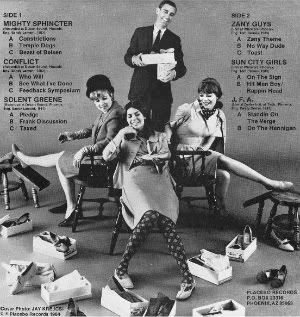 Download:
VA-This Is Phoenix, Not The Circle Jerks
Placebo released punk and punk related stuff for the most part, but he did dabble in other types of music as well. A good example of this would be the Dry Lungs compilations. These three comps included musicians such as Merzbow, Die Form, Sleep Chamber, Severed Heads and Controlled Bleeding, among many others. I think there might have been a Dry Lungs 4 and 5 but they were either on other labels or not official releases or something like that. Anyway, Discogs describes these three comps as "Industrial, Noise, Experimental" and I think that's fitting enough to be my description of them as well, as far as genres go.
Track Listing:
1) Controlled Bleeding-Scourge Tides
2) Etant Donnes-Le Coeur Sert La Corps
3) Neo Zalanda-A Presto
4) Esplendor Geometrico-Untitled
5) Toll-Brute Freeze
6) Vivenza-Unite Concrete Un Bruit
7) HNAS/Mieses Gegonge-Ein Winter Ohne Hautprobleme
8) Jarboe-Walls Are Bleeding
9) Merzbow-Vermin With Carcass
10) Swimming Behavior of the Human Infant- No! No!
11) Maybe Mental-Premystery
12) Le Syndicat-Full of Shit
13) Sleep Chamber-The Beast 666
14) John Duncan-Hanoi
15) Ankh-Untitled
16) Dog As Master-Disastrous Consequences
17) Problemist-Crisis
Download:
VA-Dry Lungs Part 1
Track Listing:
1) Croiners-Untitled
2) Jeff Greinke-Uprising
3) Randy Greif-The Hole To Heaven
4) Monochrome Bleu-Ballerina of Manaus
5) Tim Story-Untitled
6) Controlled Bleeding-Letters to the Life Cycle (Part 3)
7) Severed Heads-Clairaudience
8) If, Bwana-Beauty and the Beast
9) Un Drame Musical Instantane-French Resistance
10) Asmus Tietchens-Medienlandschaft 2
11) Jarboe-A Song In the Dark (Excerpt)
12) YBO2-Trash! Crash!
13) Hijoh Kaiden-Deschapelles Coup
Track Listing:
1) Maybe Mental-Will
2) Cranioclast-Siren Song
3) Paul Lemos-On Eating Garbage
4) John Wiggins-All the Truth At Once
5) Carl Michael Von Hausswolff & Zbigniew Karkowski-Royal Music #3 (Beyond The Veil Of Death At The Right-Time Hotel) For Richard Wagner And The Yanomamo Sniffers
6) Greater Than One-The Dark Streets of London
7) Helene Sage-French Pan Pan
8) Un Drame Musical Instantane-Don't Lock The Cage
9) Collectif Nox-Chantzado
10) Phantom Tollbooth-New Age Hell
11) Die Form-Animal Instinct
12) Arthur Potter-With Commercials
If you enjoyed this post, I recommend checking out more Placebo stuff, like these releases:
The Teds-The Eighties Are Over 7" (Placebo Records owner was in this band)
VA-More Coffee For The Politicians
VA-Amuck
all JFA and Sun City Girls albums if you haven't already
Edit: You can DL The Teds 7" and the More Coffee comp at the AZ Local blog:
http://azlocal.blogspot.com/2007/06/teds-eighties-are-over-1981-7.html
http://azlocal.blogspot.com/2007/10/various-artists-more-coffe-for.html